Donaldsonville, LA. – Ascension Public Schools announces the 2018-19 Students of the Year for fifth, eighth and twelfth grades. These outstanding students will be recognized at the Jan. 22, 2019, Ascension Parish School Board meeting, and the district winners will be named at that time.
"We always enjoy celebrating the accomplishments of our students," said Superintendent David Alexander. "Being named Student of the Year is a very prestigious recognition that represents commitment to high achievement in school but includes so much more than just being good at school. We commend, first and foremost, these students, but we also recognize their families and others in their lives who served to support, encourage and mentor them on this path of accomplishment so that they can enjoy this special moment."

FIFTH GRADE STUDENTS OF THE YEAR 
Madison Hebert, Central Primary School
Brody Babin, Duplessis Primary School
Jake Albares, Dutchtown Primary School
Rylie Causey, Galvez Primary School
Jacque Jackson, Gonzales Primary School
Anna Blanchard, G.W. Carver Primary School
Lexie Johnson, Lake Elementary School
Jessika Graham, Lakeside Primary School
Brennan Daggs, Lowery Elementary School
Hayden Herring, Oak Grove Primary School
Logan McQuarn, Pecan Grove Primary School
Brody Clement, Prairieville Primary School
Piper Coburn, Sorrento Primary School
Zoe Gros, Spanish Lake Primary School
Mason Miller, St. Amant Primary School

EIGHTH GRADE STUDENTS OF THE YEAR
Katelyn Frank, Central Middle School
Joseph Du, Dutchtown Middle School
Ephraim Craddock, Galvez Middle School
Desmon Green, Gonzales Middle School
Jacob Sonnier, Lake Elementary School
Tre'Myai Brown, Lowery Middle School
Perry LaBorde, Prairieville Middle School
Jake Rizzo, St. Amant Middle School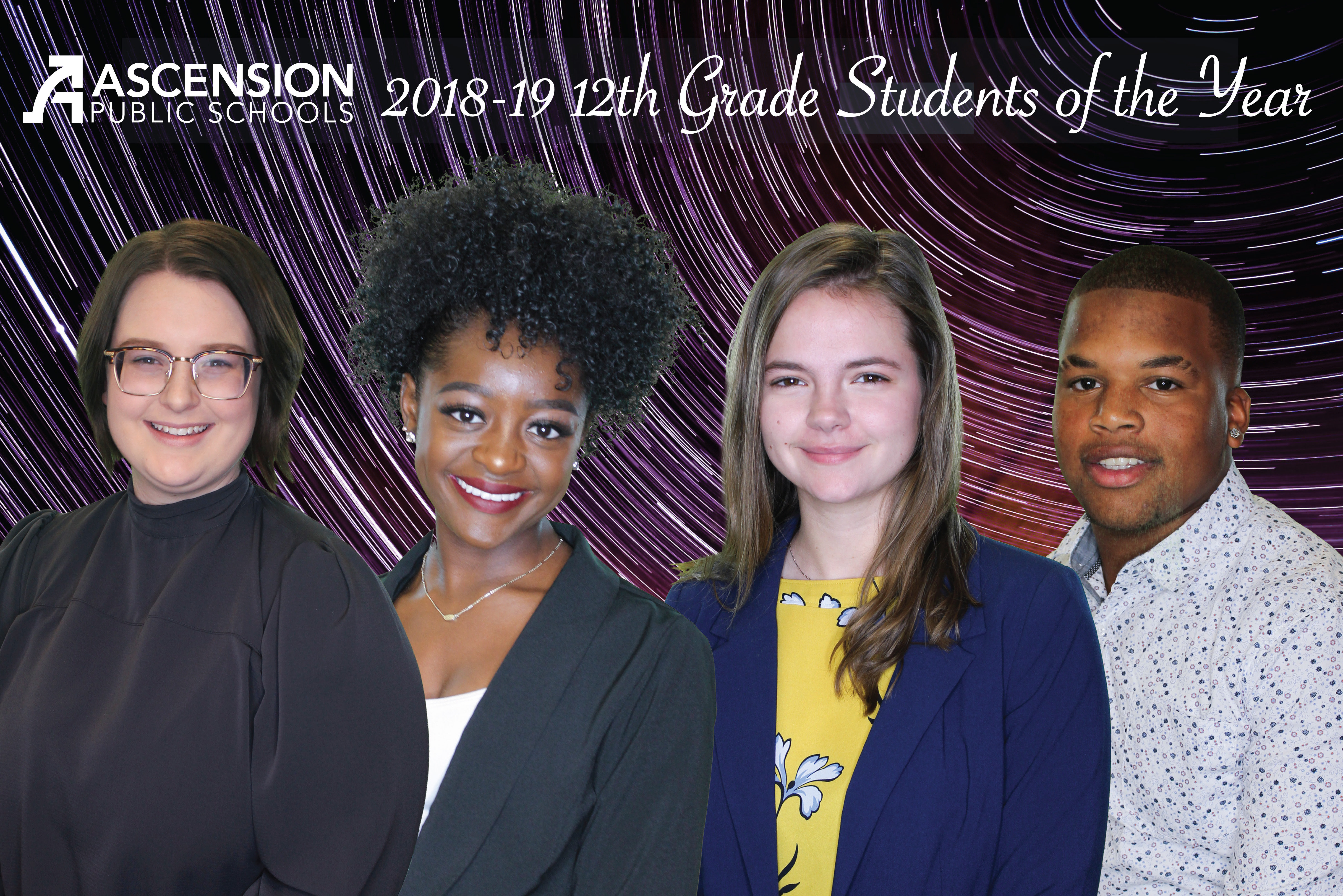 TWELFTH GRADE STUDENTS OF THE YEAR
Tre'von Mitchell, Donaldsonville High School
Parker Blackwell, Dutchtown High School
DaJhe' Sullivan, East Ascension High School
Reace Dedon, St. Amant High School
In order to be considered for the Student of the Year process, students must maintain a cumulative grade point average of at least 3.2. The school level coordinator submits all students in fifth, eighth and twelfth grades who meet the initial criteria. Teachers then vote for students on the list based on the child's academics, behavior and leadership qualities. The coordinator then chooses the students with the top votes to enter the actual school level competition. A small committee of school staff is assembled to score students based on test scores, grades and an interview. The students with the highest committee score is named the school's Students of the Year.
Those students are now eligible to compete at the district level. The students have to submit a biographical sketch, writing sample, portfolio of their accomplishments and be interviewed by members of the Ascension Parish community who volunteer as judges. District level primary, middle and high winners will be named at the school board meeting on Tuesday, Jan. 22, 2018. The district winners will be entered in the regional competition, which will occur in February. Winners from the regional competition will be named in March.
Individual photo banners for year Students of the Year are available to view and download at www.apsb.org/SOYgallery. For larger, print-ready files please contact the Public Information Office. To learn more about Ascension Public Schools, visit www.apsb.org.
Comments
comments
Comments
comments